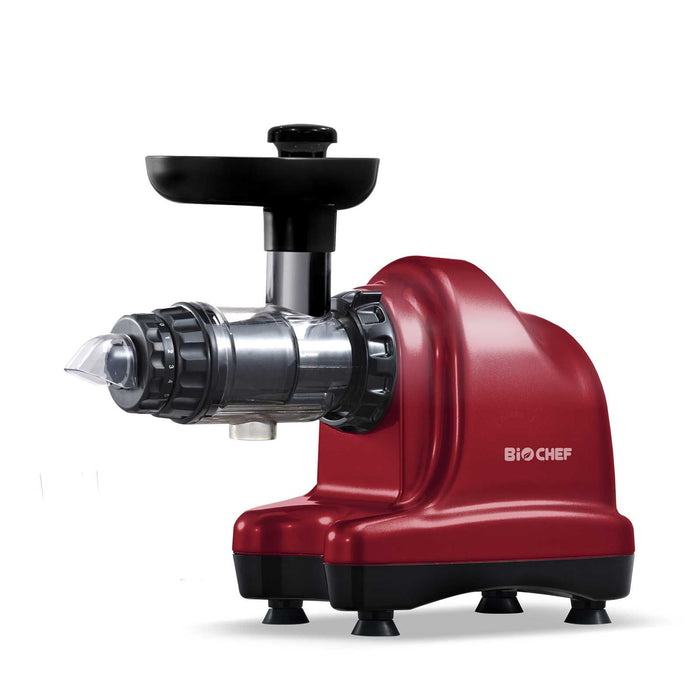 Axis-Cold Press, Masticating, Ultimate Leafy Green Juicer, RED
BioChef Axis is compact & very versatile, a complete "living food kitchen machine". The BPA free, BioChef Axis Slow Juicer is the most advanced single-gear horizontal cold press juicer. Also referred to as a masticating type of juicer, the BioChef Axis thoroughly "chews" up plant fibers, mimicking our own chewing function, to fully extract vitamins, enzymes, & minerals from fruits & vegetables. The horizontal design of this 'slow juicer' means it excels at juicing fibrous & leafy green vegetables like wheatgrass and kale, with high juice yield & little froth. This 'living juice' can be made, stored & consumed for up to 48 hours, meaning you are able to juice in bulk and keep in the fridge for a couple of days. The gentle extraction action (at only 60 RPMs) means no foam or froth is produced (foam indicates oxidation). The juicer comes with Enzyme Protection technology (EPT), means it produces juices from vegetables & fruits without heat, thus protecting enzymes and nutrients.
The Ultimate Leafy Greens & Wheat Grass, Slow, Cold Press, Masticating Juicer. The BioChef Axis is compact and very versatile, it is what we call the complete "living food kitchen machine" The BioChef Axis is the perfect juicer for the avid health-enthusiast and can make detox-quality cold pressed juice, healthy purees, dips and baby foods, nut butters, raw food treats and pure fruit sorbets and much more.
Ultimate Leafy Greens & Wheat Grass Juicer. Make detox quality juices. Horizontal style, superior crushing & squeezing mechanism provides more fibrous greens like wheat grass, celery, kale, spinach or medicinal herbs with minimal foam or froth.
Enzyme Protection technology (EPT), produces juices from vegetables and fruits without heat, thus protecting enzymes and nutrients.
With Enzyme Protection Technology (EPT), the augur crushes slowly, produces minimum exposure to heat or friction & delivers superior juice with enzymes and nutrients maintained.
Complete living food kitchen machine makes detox quality cold pressed juice, healthy purees, 6 different pasta/noodle attachments for fresh pasta in minutes. Doubles as a raw food kitchen appliance.
Food Processor Functions to make natural & preservative free pasta, dips, purees, sorbet, nut butters, baby foods, bliss balls, ice cream, sauces & more!
Ultem Auger & Tritan BPA - Free Parts. Easy & quick to clean, takes less than 3 minutes!
Pulp Adjustment Nozzle – Extract More! Nozzle let you adjust the squeeze pressure with 5 being highest for say carrots and 0 least for softer like oranges or watermelon.
Wide Mouth' Style Feeding Chute - 4.5 cmx4.5cm for less cutting and more juicing!
150W | 60 rpm, Cold Press, Slow, Masticating juicer & food processor
| | |
| --- | --- |
| List of Contents | Juicer, Ultem Auger, 1 x Tritan Juicing Screen, 1x Tritan Processing screen, Pasta Attachment, Pulp Ejection Knob, Tamper & Cleaning Brush |
| Product Dimensions | 15"D X 13"H X 7.08"W |
| Care | Augur, Screens, attachments, tamper & cleaning brush are dishwasher safe |
| Country of origin | CHINA |
| Material or fabric | BPA Free Ultem & Tritan Polycarbonate |
| Product Weight | 13.88 lbs |
| Assembly Required | Yes, Easy |
| Model # | BioChef Axis Living Food Machine - SLOW Juicing Screen, 1x Tritan Processing screen |
| Voltage | 120V |
| Warranty Info | 20 Year limited Warranty on Motor / 10 Years on Parts / I Year if used for commercial purpose |