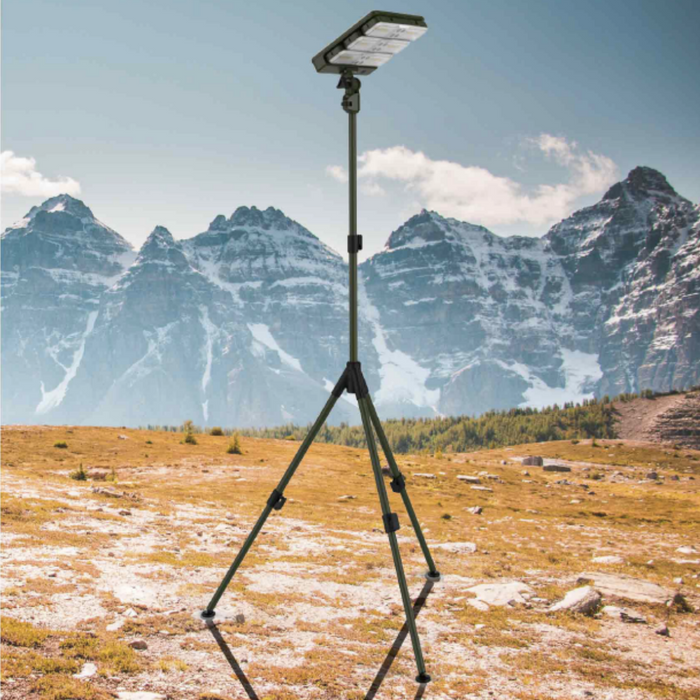 TRU De-LIGHT WORK & PLAY AT NIGHT Multi Configuration, Solar, LED High Lumen, Flood-Light (3450 Lumen Total)
TRU DE-LIGHT, WORK&PLAY AT NIGHT – MULTICONFIGURATION, SOLAR, LED HIGH LUMEN, FLOOD-LIGHT (3450 Lumen Total), Configured With 3 Detachable, Portable, Multi-Mode, Powerful, Work Lights. Integrated In One Master Solar-Powered Charging Station (Can Be Used As 1 Integrated OR 3 Independent Lights With 1150 Lumens Each Max, In Multiple Configurations). Each Of 3 Lights Can Be Used As Power Bank. Strong Light For Work Or Relaxing And Enjoying At Your Workshop, Backyards / Patio / Balcony At Home, Working In The Garage Or At Auto Shop Or Camping In The Wild.
Great For Enjoying Your Evening At Your Boat, Camping Or Relaxing Next To Your RV. Good Solution For Off-Grid Work Site, Cottage Or Home, Simply Keep The Light Under Sun To Charge During Day And Bring It In At Night For All Night Play.
WORK & PLAY ALL NIGHT!
3 PACK - STRONG SOLAR LED 3 Detachable Lights Integrated In 1 Main Charging Station, Can Be Used Together Or Separately
SOLAR, A/C & D/C Adapter Included
3450 LUMENS 3 Lights With 1150 Lumens Each, Can Be Configured & Used In Multiple Ways
MULTI-UNIT 3 Detachable Lights Integrated In 1 Main Charging Station
MULTI-MODE Multiple Brightness Level Setting
15000mAh Lithium Battery Capacity, Each Of 3 Lights Each With 5000mah, Each Act As Power Bank For Your Iphone Or Ipad
MULTIPLE BRIGHTNESS LEVEL Each Light Will Sustain 2-14 Hours
TRIPOD With Adjustable Height (1-2m) Tripod & Carrying Suitcase
5W (8.5W For Each Of The Single Work Light)
WATER Resistant
FAST SET UP Takes 2 Minutes To Set Up
WARRANTY 6 Months From The Date Of Purchase Against Product Manufacturing Defects