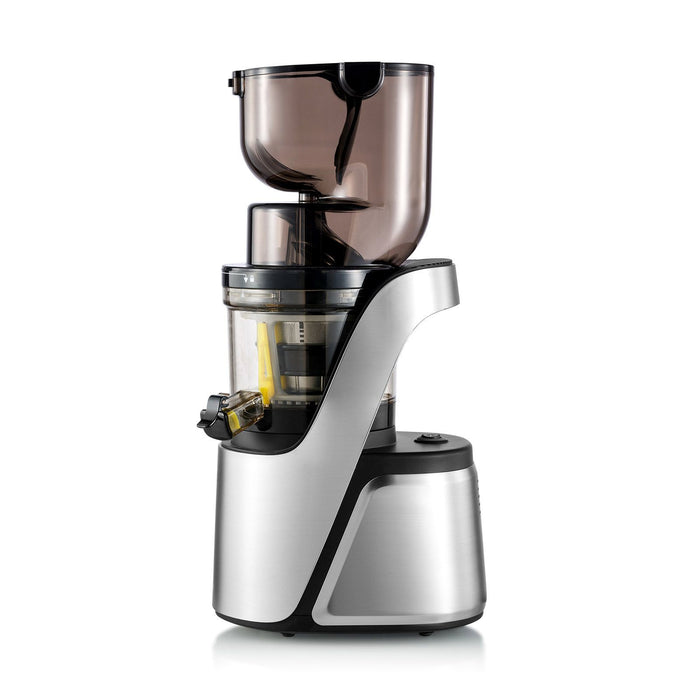 Quantum-Whole, Slow, Cold Press, Masticating-Ultimate Juicer, SILVER
Introducing the BioChef Quantum Masticating Whole Slow, Cold Press Juicer, with second generation auger, commercial-grade motor, BPA free, dishwasher-safe parts and newly designed body. The juicer comes with Enzyme Protection technology (EPT), means the strong motor produces juices from vegetables and fruits without heat, thus protecting enzymes and nutrients. The BioChef Quantum features our industry-leading 300W maximum rated power induction motor, which juices whole fruits and vegetables with ease at 40 RPM. This powerful motor achieves continuous juicing for up to 60 minutes while remaining extremely quiet during operation – maintaining a pleasant atmosphere both at home and in a commercial establishment. The powerful motor means that you can extract juice from fruits and vegetables without heat, while retaining the nutrients and enzymes. A strong motor also allows you to make rice or nut milks.
Introducing the NEW extra wide mouth BioChef Quantum Cold Press Juicer with maximum rated power 300 Watts commercial-grade motor, dishwasher-safe parts and newly designed body.The BioChef Quantum Cold Press Juicer features the power and efficiency of our other best selling vertical juicers with an updated motor, new 6.5cm x 3cm wide mouth, new modern design and includes a convenient handle. The BioChef Quantum has a brushed metal finish and comes in burgundy, silver, or bronze. The BioChef Quantum also includes 4 strainers and comes with a lifetime warranty on motor and 5-year warranty on parts.
Powerful 300W Max Rated Power induction motor and second-generation auger
Enzyme Protection technology (EPT), strong motor produces juices from vegetables and fruits without heat, thus protecting enzymes and nutrients.
With Enzyme Protection Technology (EPT), the augur crushes slowly, produces minimum exposure to heat or friction and delivers superior juice with enzymes and nutrients maintained.
Dual, wide feed chute (8cmx8cm) to juice whole fruits and vegetables
More Juice from the same produce. No preparation, no cutting and no peeling required. Newest model and sleek, modern design.
Continuous juicing for up to 60 minutes.
The large augur works well for juicing greens like celery, wheatgrass, kale and much more! Sorbet strainer is great for fruit sorbets, desserts, baby food and nut butter.
Tritan BPA Free, Dishwasher safe parts for easy clean up
Included accessories: Comes with 4 Strainers for ultimate versatility - fine, extra fine and course strainers plus sorbet strainer, cleaning brush, fine cleaning brush, manual with recipe ideas
| | |
| --- | --- |
| List of Contents | Juicer, Fine Strainer, Extra Fine Strainer, Coarse Strainer, Sorbet Strainer, Cleaning Brush, Fine Cleaning brush, Manual with recipe ideas. |
| Product Dimensions | 8.7"D X 18.11"H X 6.3"W |
| Care | Containers, Strainers, Tamper, Cleaning brushes are all dishwasher safe |
| Country of origin | CHINA |
| Material or fabric | Tritan and non toxic materials: BPA Free, BPS free, PVC Free, Phthalates free, Formaldehyde free |
| Product Weight | 17.6 lbs |
| Assembly Required | Yes, Easy |
| Model # | BioChef Quantum Cold Press Juicer - 300W |
| Voltage | 120V |
| Warranty Info | Warranty: Lifetime on Motor & 12 years on Parts (Domestic), 1 Year if used for Commercial purpose |