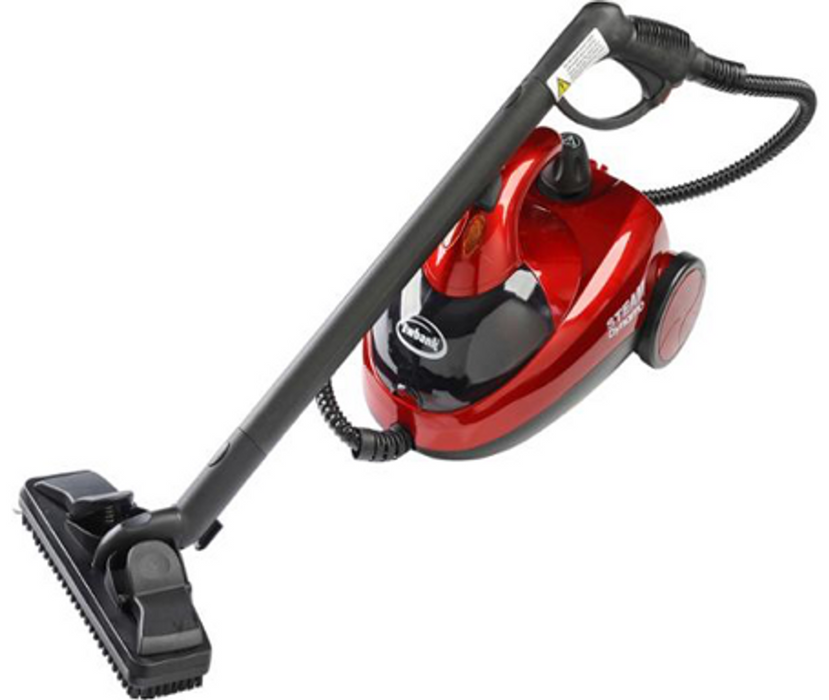 Ewbank SC1000 Steam Dynamo Multi-Tool Powerful Steam Cleaner for Chemical Free Cleaning
The ewbank SC1000 steam dynamo for cleaning without chemicals is a powerful steam cleaner that uses steam to eliminate grease, dirt, mold and stains. The steam dynamo is small, lightweight, and easy to carry or wheel around. With multiple attachments, the dynamo is perfect for floor to ceiling cleaning.
The stream-on-demand trigger allows the nozzle to steam when and where you want it or it locks into place for a constant steam. The dynamo features an easy access, on-board storage compartment at the front of the steamer for quick and easy access to all attachments.
This model includes a floor head cleaner with brush, a window/tile cleaner, nylon brush and mini nylon brush, push button nozzle adapter with jet nozzle, 2 extension tubes, water jug and funnel and a towel bonnet having a 50-ounce tank capacity for 45-minute of steam cleaning. From kitchens to bathrooms, tiles, windows, bbq s, carpets and rugs are no issue for the ewbank steam dynamo.
The high powered boiler generates steam on demand at up to 54psi (3.4bar)
Includes a wide range of multi-purpose attachments stored in the front compartment of the steamer to make quick easy work of cleaning all around your home
From kitchens, bathrooms, tiles, windows, ovens, grills even carpets & rugs are no issue for the ewbank steam dynamo
Powerful 1500w boiler & 1.5 litre tank capacity
45 mins cleaning time from one tank
Great for floor to ceiling cleaning for use in kitchen, bathroom and for cleaning windows
Stainless steel boiler