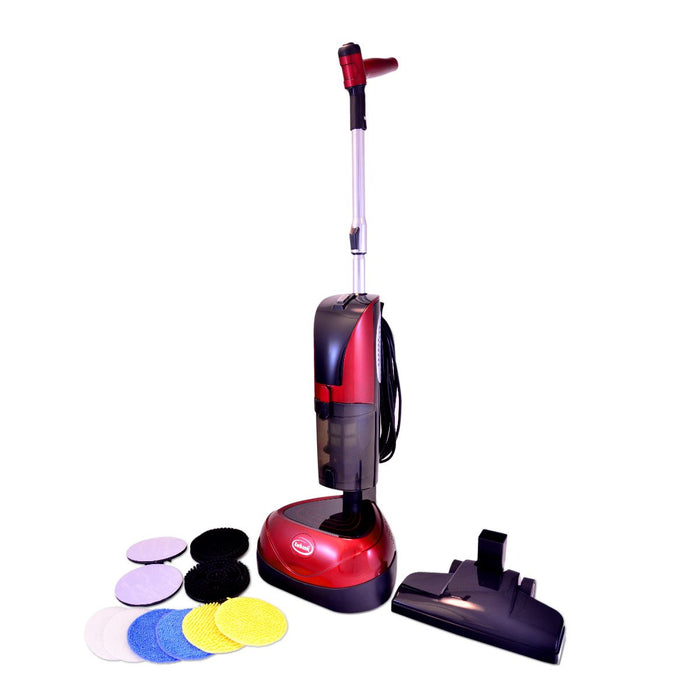 Ewbank EPV1100 Multi Use Total Floor Care Powerful Floor Polisher / Vacuum - Vacs, Scrubs and Polishes
This powerful total care floor polishing machine works just like a commercial machine. This total care vacuum & floor polisher can do all - vacuum, scrub, scour, and wash any hard floor. Comes with a telescopic butterfly handle that can be used with two hands, or closed for single handed operation to effortlessly polish all sealed hard floors to a high shine.
The ewbank epv1100 floor polisher & vacuum offers the complete solution, a vacuum and floor polisher all in one. There is no need for multiple cleaning appliances in your home or office; with a powerful polishing head and a cyclonic vacuum, the floor polisher and vacuum has it all.
It is a fast, powerful, easy & when used with ewbank floor polish, will revive the appearance of your floors and restore their new-look shine. The epv1100 comes equipped with an easy to empty debris canister so that you don't have to worry about vacuum bags. The furniture & wall protection bumper will help keep your walls and furniture scuff free while you maneuver into those places you never thought you would be able to reach.
Included with the floor polisher and vacuum are 2-floor brush, 2-plate for pads, 2-microfiber buffing pad, 2-polishing pad.
The total care floor polisher can also scrub, scour or wash any hard floor
The machine incorporates a powerful cyclonic vacuum cleaner with a hepa filter that can be used while polishing to save time, or separately as an upright vacuum cleaner
With the optional accessory pack it can also be used as a handheld vac
2,200rpm contra-rotating discs deliver excellent performance
3 uses - polisher/scrubber, polisher/vacuum, or just as a vacuum
Powerful cyclonic bag-less vacuum