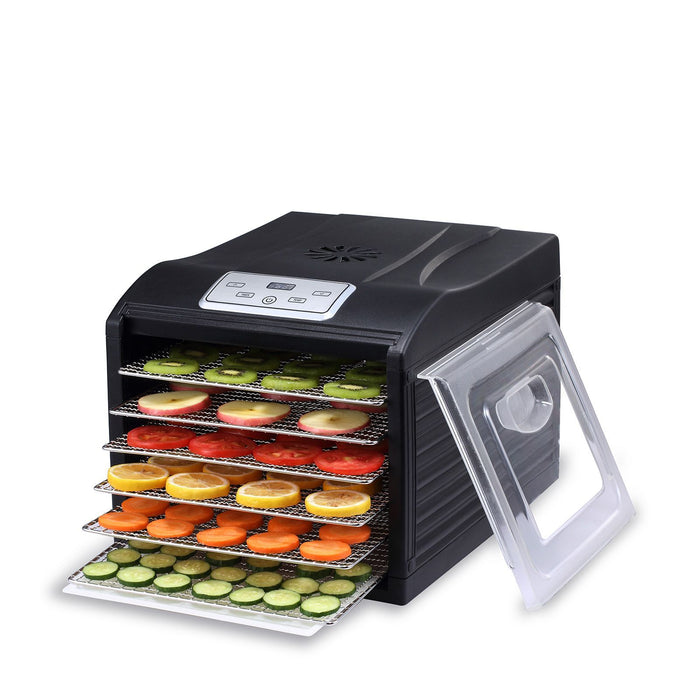 Arizona Sol 6 Steel Tray Food Dehydrator, BPA Free Body - BLACK
"BioChef Arizona Sol Food Dehydrator 6 x BPA FREE STAINLESS-STEEL Drying Trays & Digital Timer - Includes: 1 x Non-Stick & 1 x Fine Mesh Sheet & Drip Tray. Best Drier for Raw Food, Fruit, Jerky. The BioChef Arizona Sol Food Dehydrator is a simple and easy to use horizontal food dehydrator that dries and perfectly preserves every time. It has all the features that a food dehydrator needs – horizontal air flow, adjustable thermostat, digital timer and the added bonus of a transparent door and stainless-steel trays. Removable trays allow for more space when drying larger ingredients such as rising bread or drying flowers and herbs. Great for smaller spaces. Make your own ORGANIC, CHEMICAL FREE treats for kids, family, and pets.
The BioChef Arizona Sol 6 Tray Food Dehydrator is our most compact dehydrator, perfect for small spaces or small batch dehydrating. The Arizona Sol Dehydrator features a digital timer, adjustable thermostat, removable trays, non-harming materials (stainless steel trays + inner- and outer casing made of BPA free materials), horizontal drying system and long warranty and all at an affordable price.
Best Drier for Raw Food, Fruit, Jerky. Transparent door & flexible tray arrangement
6 x Stainless Steel Interchangeable Drying Trays - More versatility & 100% BPA free outer box
Create Chemical free, Organic Healthy Snacks & Treats for the Family - Dried Fruit & Fruit Leathers * Healthy Snack Alternatives * Dehydrated Seed Crackers, Bread Alternatives & Healthy Cookies * Make Yoghurt, Rise Bread & Ferment Foods
Horizontal Airflow for Even Heat Distribution. Horizontal drying system, the only choice for even, safe & effective drying
Adjustable thermostat 35˚-70˚C (95º F to 158º F) and digital 19.5-hour timer
Includes 1 x Non-Stick Sheet, 1 x Fine Mesh Sheet & 1 x Drip Tray
| | |
| --- | --- |
| List of Content | 6 x High Quality 304 Stainless Steel Trays, 1 X Non-Stick Sheet, 1 X Fine Mesh Sheet, 1 X Drip Tray & Manual |
| Product Dimensions | 45""D X 31.5""H X 34.5""W |
| Care | Steel Trays are dishwasher safe |
| Country of Origin | China |
| Material or fabric | Body BPA Free, Stainless Steel Trays |
| Product Weight | 11.5 lbs |
| Assembly Required | No |
| Model # | Bio Chef Arizona Sol - 6 Trays |
| Voltage | 120V |
| Warranty Info | 2 Year limited Warranty |
"