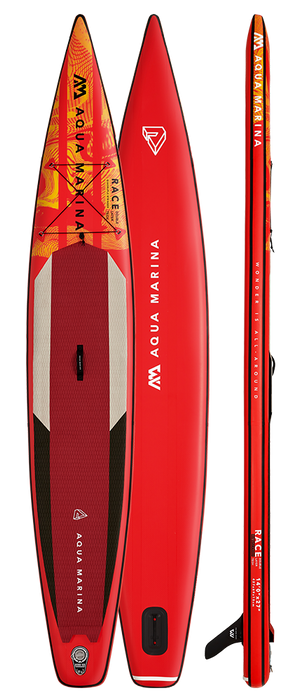 Aqua Marina RACE 14'0" Inflatable Paddle Board Racing SUP
R A C E,  R A C I N G   S E R I E S
The Aqua Marina RACE is in two lengths of 12'6" and 14'0" both in width of 27", which gives enough stability to be in control when conditions get choppy but fast and slippery to cover distances quickly.
With our Quadruple Stringer Technology, combined with lightweight Double Layer Technology, these boards are much stiffer yet lighter. You would be astonished at their outstanding rigidity. The combination of speed, stability and floatation is so impressive for such narrow boards.
The tool-free slide-in Racing Fin and upgraded heavy-duty coil leash make the RACE a ready-to-race package..
The RACE & RACE ELITE are from aqua marina racing series.