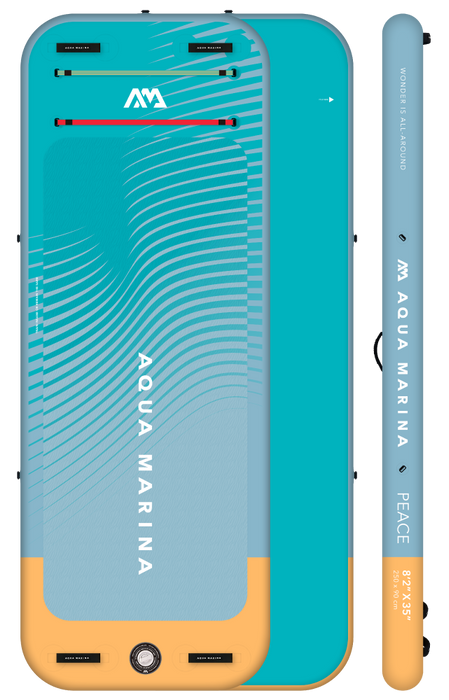 Aqua Marina PEACE 8'2" Inflatable Paddle Board Fitness SUP (2023)
P E A C E,  F I T N E S S   S E R I E S
EXPLORE A WORLD WITH WONDER: Boundless exploration. Aqua Marin's extensive iSUP boards are ready to be your adventure companion. No matter your paddle style, there's a board tailored to your needs. Uncover a world yet to be fully explored from the deepest caves to the most serene oases. Ultra-portable, our iSUPs will accompany you wherever adventure takes palce.
Find your balance on the water! Take your workout anywhere you go with the PEACE floating platform. The PEACE's superior stability and 8'2" x 35" size is reminiscent of a traditional yoga mat and perfect for swimming pools and calmer waters. Up the difficulty for your core exercises while finding your inner peace.
Designed to perform, the PEACE features a full coverage EVA mat for superior grip and stability. Master your poses without the worry of misplaced footing or lack of space. With an incredible volume of 340L, you'll find there is ample room to increase your strength, core stability, proprioception, and coordination.
The DHYANA/PEACE/YOGA DOCK are from aqua marina fitness series.