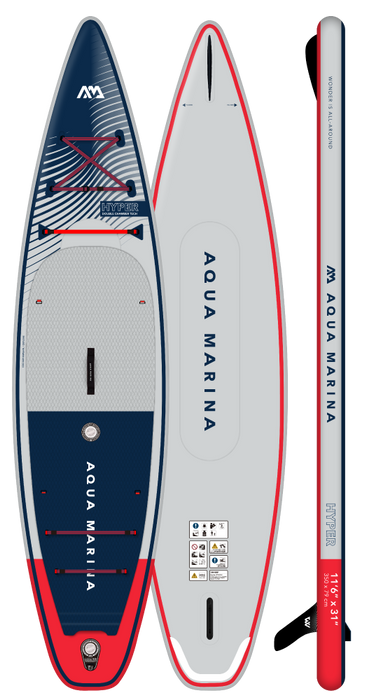 Aqua Marina HYPER 11'6" Inflatable Paddle Board Touring SUP (2023)
H Y P E R   11'6",  T O U R I N G   S E R I E S
EXPLORE A WORLD WITH WONDER: Boundless exploration. Aqua Marin's extensive iSUP boards are ready to be your adventure companion. No matter your paddle style, there's a board tailored to your needs. Uncover a world yet to be fully explored from the deepest caves to the most serene oases. Ultra-portable, our iSUPs will accompany you wherever adventure takes palce.
Adventure knows no boundaries with our HYPER inflatable SUP. With its sleek, modern silhouette and generous volume, you'll not only find excellent cruising efficiency and straight-line tracking, but also superior loading capacity to transport all your gear. Perfect for multi-day trips or when you're looking to explore greater distances, the HYPER is enjoyable for both first timers and seasoned paddlers alike.
New for 2023, our HYPER models are now equipped with rectangular hydrodynamic rail edges (REC Edge™) for clean water release and a FORE KEEL™ design for improved water stroke and straight-line tracking.
The CORAL TOURING and HYPER are from aqua marina touring series.