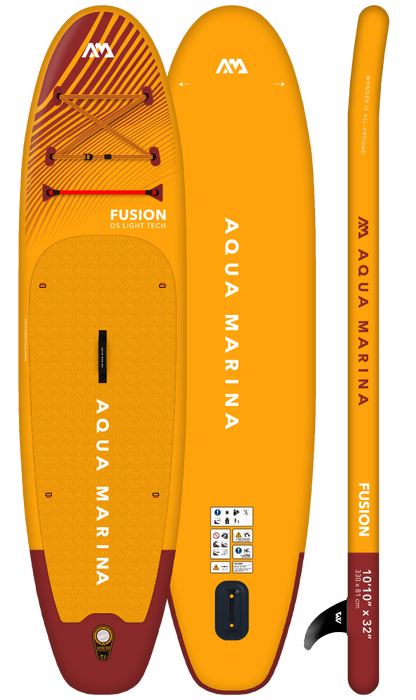 Aqua Marina FUSION 10'10" Inflatable Paddle Board All-Around SUP (2023)
F U S I O N,  A L L   A R O U N D   S E R I E S
EXPLORE A WORLD WITH WONDER: Boundless exploration. Aqua Marin's extensive iSUP boards are ready to be your adventure companion. No matter your paddle style, there's a board tailored to your needs. Uncover a world yet to be fully explored from the deepest caves to the most serene oases. Ultra-portable, our iSUPs will accompany you wherever adventure takes palce.
Perfect for beginners and seasoned riders alike, our ALL-AROUND series was built for versatility! Our 2023 models have been re-engineered with an all new refined shape, ultra-stable construction, and plenty of additional features. Use in flat water or small waves with everything you need right out of the box! Compact, lightweight, and ultra-portable.
The remastered FUSION features a broadened tail for more generous volume to cater to paddlers looking for more stability. Equipped with our latest RED STRAP™ bungee system, carry more cargo with ease and safety under its ultra-elasticity. The EVA footpad features our new sand-ripple grooving for superior grip reminiscent of sandy beaches.
Our best-selling ALL-AROUND series features bold, eye-catching colors with aesthetic gradients sure to stand out on any waters. Inspired by nature's shifting patterns and unique textures, we aimed for a design that would truly resonate with its surroundings. The ALL-AROUND series is budget friendly while delivering versatility and performance. Everything you need is in one compact backpack!
The BREEZE/VAPOR/FUSION/MONSTER are from aqua marina all around series.