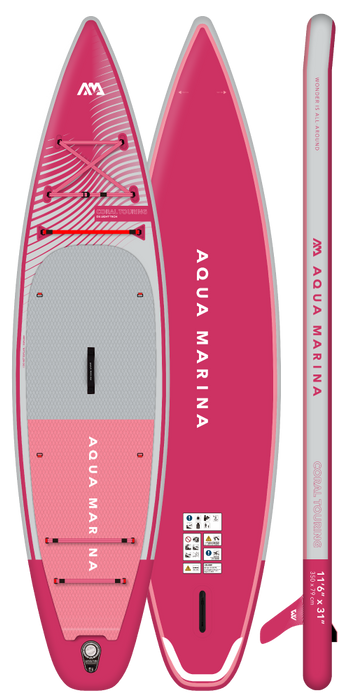 Aqua Marina CORAL TOURING-R 11'6" Inflatable Paddle Board Touring SUP (2023)
C O R A L   T O U R I N G - R,  T O U R I N G   S E R I E S
EXPLORE A WORLD WITH WONDER: Boundless exploration. Aqua Marin's extensive iSUP boards are ready to be your adventure companion. No matter your paddle style, there's a board tailored to your needs. Uncover a world yet to be fully explored from the deepest caves to the most serene oases. Ultra-portable, our iSUPs will accompany you wherever adventure takes palce.
The CORAL TOURING board offers a unique cruising shape ideal for all trekking enthusiasts. Effortlessly cover greater distances with exceptional glide and manoeuvrability. This lighter weight touring board is perfect for calmer waters or mild waves while remaining ultra-portable. Its sleek outline features a moderate nose rocker for better control and effortless paddling.
Coming in at just 9.3kg, this board is easy to pack up into its convenient backpack to discover your next wondrous destination.
The CORAL TOURING and HYPER are from aqua marina touring series.