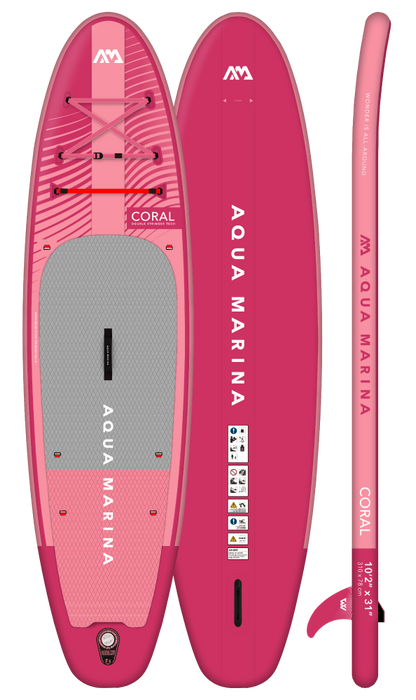 Aqua Marina CORAL-R 10'2" Inflatable Paddle Board All-Around Advanced SUP (2023)
C O R A L - R,  A L L   A R O U N D   A D V A N C E D   S E R I E S
EXPLORE A WORLD WITH WONDER: Boundless exploration. Aqua Marin's extensive iSUP boards are ready to be your adventure companion. No matter your paddle style, there's a board tailored to your needs. Uncover a world yet to be fully explored from the deepest caves to the most serene oases. Ultra-portable, our iSUPs will accompany you wherever adventure takes palce.
Equipped with our latest RED STRAP™ bungee system, carry more cargo with ease and safety under its ultra elasticity. Our patented Swift Attach Fin System (SAFS™) ensures you can get setup without fuss and the new tail kick pad makes it easy to maneuver turns. Meanwhile, awesome accessories such as carbon and fiberglass hybrid paddle and anti drag coil leash offer unparalleled performance.
New for 2023, the CORAL is now available in two glorious colors – Night Fade and its original Raspberry. Offering smooth paddling and all-around versatility, tackle a variety of waters from flat to small waves. This performance board is lightweight while still offering superb stiffness. Driven by more than just performance, we aimed to design a truly aesthetic board featuring color-matched accessories all packed in one compact backpack. Born to stand out, the CORAL comes with a 2-in-1 carry strap which can be used when inflated or not with ease.
The CORAL/BEAST/MAGMA/ATLAS are from aqua marina all around advanced series.